Pill Drop & Document Shredding Event-April 13
Posted on 03/12/2019
PILL DROP & DOCUMENT SHREDDING EVENT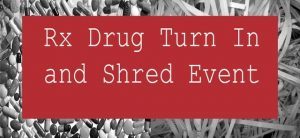 The Town of Fletcher and the Fletcher Police Department are hosting a pill take-back event called Operation Pill Drop as well as a Spring document shredding event.
Date: Saturday, April 13, 2019
Location: South Parking Lot at the Fletcher Town Hall
Time: 9:00 am to Noon
●Bring your unused or outdated prescription medicine to be safely and legally disposed. Safely disposing of old medications through Operation Pill Drop events instead of flushing them down the drain prevents chemicals from ending up in the water supply.
●Bring your unwanted documents and protect your personal information as well as the environment. The National Crime Prevention Council recommends shredding all financial documents, billing statements, pre-approved credit card offers and any other papers containing personal information and identification numbers before discarding them. Two box limit.
For Additional Information or Directions: Phone: 828-687-7922 E-mail: policeinfo@fletchernc.org Fletcher Town Hall 300 Old Cane Creek Road Fletcher, NC 2873