Bill Moore Community Park
In January of 2018, Fletcher Town Council honored former Mayor Bill Moore, by renaming Fletcher Community Park, Bill Moore Community Park. Bill Moore was first elected as a council member for the Town of Fletcher in November 1995, and elected Mayor in 1999.  Mayor Moore served the residents of the Town of Fletcher tirelessly and diligently for twenty two years.  During that time, he was an advocate for growth and advancement and a champion for community parks and recreation in the Town of Fletcher.
Bill Moore Community Park is recognized as one of the best family parks in Western North Carolina.  Park patrons have access to miles of scenic walking trails, Cane Creek, and countless other amenities.  Our park impacts the quality of life by contributing to the social, economic, health and environmental well-being of our community.
Location:
85 Howard Gap Road
Fletcher, NC 29732
Hours:
Open Daily, Daylight to Dusk
Park Amenities:
5 Baseball/Softball Fields
3 Multi-purpose Fields
Concession Stand
Restrooms
Steelcase Picnic Shelter
Playground
Park Ridge Health Fitness Circuit
Cane Creek Access
9-hole Disc Golf Course- Click Here for Map
Arboretum Gardens
Walking Trails
Morris Broadband Dog Park
Steelcase Shelter:
To check shelter availability and to reserve a shelter, please click here to go to our online registration site.
You can reserve a shelter in person at Fletcher Town Hall (300 Old Cane Creek Rd.), Monday – Friday, 8 a.m. – 5 p.m.  However, please note that all reservations made in person must also be added to the online registration site so please be prepared to go through the process. Only cash or checks are accepted in person.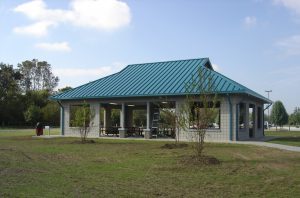 Rental Fee: (Per 4 hour time block)
Fletcher Resident: $75
Non-Resident: $150
Business: $250
Rental Fee: (Per 2 hour time block)
Fletcher Resident: $37.50
Non-Resident: $75
Business: $125
You can find information on the rental of Kate's Park picnic shelter here.
Refund Policy:
NO REFUNDS WILL BE GIVEN. Reservation fees are non-refundable. Every effort will be made to schedule an alternate date should a cancellation be necessary. Alternate dates may or may not be available to the park user depending upon other reservations that have been
Field Rentals:
When not being used for department programming, Town fields are available for rent. Please contact Greg Walker at 828-687-0751 or g.walker@fletchernc.org for pricing and availability.
Morris Broadband Dog Park:
The Morris Broadband Dog Park opened April 7, 2013.  The park has two fenced in areas for large dogs and small dogs.  We encourage members of our community to utilize this area with their four legged friends.